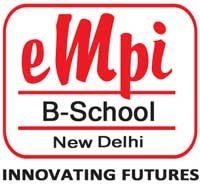 Cskm Educational Complex, Mehrauli, New Delhi – 110074 | 9250376104 , 9811004275
website-: Click here
EMPI Business School Delhi was established in 1995, by a group of nation builders who have been highly committed and successful professionals College and academicians in their own respective domains. EMPI Delhi Business School conceptualized by cognitive scientist Pankaj Saran, was initially inspired and supported by legends such as Mr. Ajit Haksar, Chairman Emeritus, ITC Ltd., Col. Satsangi, Founder Chairman, CSKM Educational Complex and Mr. Gurnam Saran, Former Director, BHEL; and thereafter joined in by Mr. D.V. Kapur, Founder NTPC; Mr. N. Vittal, Enabler of the Software and Telecom Revolution; Ms. Tara Sinha, Advertising Icon, Prof. Udai Pareek, Father of Indian HR and Mr. P. S. Bami, Fmr. Chairman NTPC.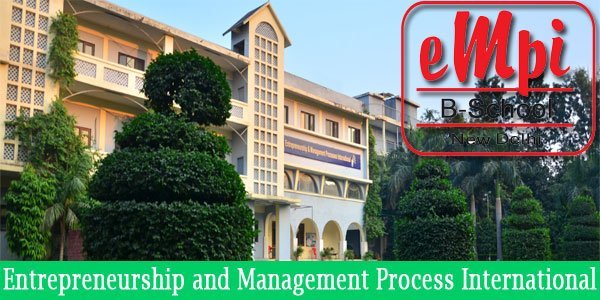 B School in Delhi
Entrepreneurship and Management Process International
Year of establishment
1994
EMPI Delhi nearest Metro Station
Chattarpur metro Station
Vision / Mission

Vision –

EMPI Business School Delhi with its emerging add-on Centers and with functional as well as Sectoral focus has been envisioned as a EMPI Group of Institutions of Excellence with the following key constituents:Comprehensive education for holistic development of individual personality with a humane touché and global outlook.Synthesizing in its educational processes Entrepreneurship with Management and vice-versa
Environment which nurtures, motivates and inspires development of managerial giftedness.

Mission – 

Translating its vision into practice through:

Launching of Entrepreneurship and Management Process International, operating comprehensive educational processes to impart knowledge and skills, both for the growing young students at the Postgraduate levels (after 3 year degree course subsequent to 10+2) and at the same time conduct Programmes for meeting specific needs of Business, Industry and other organizations by delivering tailored Training & Development.

Institutions attempt is to ensure inclusion of the following elements in its curricula for learning:

Liberal arts for vision building.
Technology appreciation for understanding the changing scenarios in the world today.
Business skills along with the essential ingredient of business ethics leading to entrepreneurial orientation as well as humane and environmental concerns in all whatever we do. Value framework that is global yet national.
Learning by doing.
Creating industrial linkages and supporting centers to generate innovation and excellence.
Forge links with International and National Universities, Institutes and Centres doing similar innovative work.

EMPI Delhi PGDM Approvals

AICTE, Ministry of H.R.D, Government of India,
AIU Recognized (Association of Indian Universities).

EMPI Delhi Course

PGDM (BM)
AdCoMM Advertising Communication in PGDM
GB – PGDM Global Business
HR & Organisation Development
RBA Business Analytics

EMPI Delhi Fees structure

The total EMPI Delhi Fees structure for the course is Rs. Rs. 7,75,000/- for 2 years

Number of seats
180 Seats
EMPI Delhi PGDM Specializations

Innovation and Operations Management.
Marketing.
Finance.
Advertising Communication.
Integrated Marketing Communication and Brand Management.
Global Business
Human Resource & Organisation Development
Business Analytics

Entrance Required
CAT/ MAT/ XAT/ CMAT/ GMAT/ ATMA
Required Documents

A Photocopy of Entrance score card
A xerox of Graduation Examination marksheet (1st & 2nd year markcard for 3 year degree holders and 1st, 2nd & 3rd year marksheets for 4 year degree holders, in case applying for Final Examinations).
A Photocopy of Class 12th Certificate / 10th Certificate.
Colored photographs (4 passport size).

GD/PI Cities
On Delhi Campus, Bhubaneswar, Kolkata, Jaipur, Guwahati, Ranchi, Jamshedpur, Patna, Kanpur, Allahabad, Lucknow, Chandigarh
EMPI Delhi Fees structure Scholarships
Yes,Available
EMPI Delhi PGDM Admission Eligibility –
Requires at least a 3-year Bachelor's degree with minimum 50% marks in aggregate of all the subjects or equivalent in any discipline recognized by the AIU / AICTE as eligible for Post Graduate Studies or possess an equivalent qualification recognized by the Ministry of HRD, Govt. of India
Candidates in the final year of a Bachelor's degree course or equivalent are also eligible to apply. However they are required to furnish the proof of graduation (Mark sheets till final semester )before 30th November of the year of joining.
Students need to take any of the  MBA Entrance examination Likes CAT/ MAT/ CMAT/ XAT/ ATMA for admission in EMPI Business School Delhi
Self Processed correct application form with actual Details and current Photographs  before the GD/PI dates.
EMPI Delhi Cut off
50 Percentile in Entrance Exams Like CMAT/ ATMA/ XAT/ MAT/ CAT .