Apeejay School of Management (ASM)Dwarka Fees structure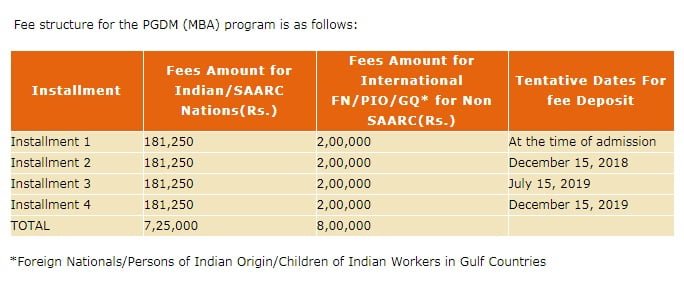 Apeejay School of Management {ASM} Dwarka Fees Structure
Session starts: June 2018
Hence All disputes shall be subject to exclusive jurisdiction of Delhi courts only.
(A) The students would be obliged to pay the above fees and / or such fees as may be finally determined by the appropriate authorities / court.
(B) If a student withdraws before / after start of the course and the seat vacated by the student filled by the institution. Also part of the fee be refunded as per AICTE Rules. However, in case the seat remains vacant and  not filled by the last date of admission, the student shall not be entitled to get any refund from the Institution and shall be obliged to pay the full fee for the entire tenure of course in conclusion .
(C) As a part of the program, a laptop given to each student, also the cost of which  included in the fee structure. So if a student withdraws during the course after collecting the laptop from the institution, the cost of the laptop will be recovered from him / her  .
(D) Besides fees as indicated above, every student  required to pay Rs. 12000/- towards corporate resource centre, alumni fund, back pack & business newspaper subscription, freshers and farewell get togethers etc. and a refundable Security Deposit of Rs. 10,000/- along with the first instalment.
(E) The first instalment of fee (along with security deposit)  payable by the date announced at the time of release of merit list.
(F) The subsequent installments of fee are payable by the dates mentioned above in conclusion .
(G) FN/PIO/GQ category candidates will have to give another Rs. 3,000/ for application process .
Apeejay School of Management (ASM)Dwarka Fees structure |  Apeejay School of Management (ASM)Dwarka Fees structure